Pentatone releases Schubert Lebensmuth, together with Signum Quartett, in May 2023.
Courageous Embrace of Life
Lebensmuth is the final episode of Signum Quartett's acclaimed Schubert trilogy, in which early and late string quartets are combined with song arrangements created by the group's violist Xandi van Dijk. Schubert's First String Quartet in G Minor, written when he was 13, already reveals his inclination to bold and unexpected moves. His last String Quartet in G major, D. 887 veers between a profound examination of personal trauma and a blazing triumph over adversity, and it is this resilience of spirit which is further highlighted by songs such as 'An die Musik' and 'Lebensmuth', pieces that courageously embrace life and all the beauty it offers.
The Signum Quartett is frequently hailed as one of the most adventurous and outstanding ensembles of today. The quartet's first Pentatone recording Aus der Ferne (2018) won an Opus Klassik 2019 award, as well as a Diapason d'or, and was followed by Ins stille Land (2020).
"After the desolation of the 'Death and the Maiden' quartet and works from this crisis period in Schubert's life, we wanted to pay homage to the tremendous resilience of spirit which he displayed in his final years. Schubert writes with the greatest and most subtle personal profundity, and of the traumas of war with shattering militaristic fanfares and the abysses which ensue. Yet there is not merely a bittersweet recollection of an innocent, carefree past, there is also a blazing triumph over adversity and an ineluctable forward momentum. The final couplet of Rellstab's poem 'Lebensmuth', which Schubert started setting in 1828 (with an accompanying figure reminiscent of an episode in the first movement of D. 887), encapsulates this beautifully:

'Neu glänzt ein Morgenrot: Mutig umarmt den Tod!'

'A new dawn is glowing: Embrace death courageously!' (transl. Malcolm Wren)"

Signum Quartett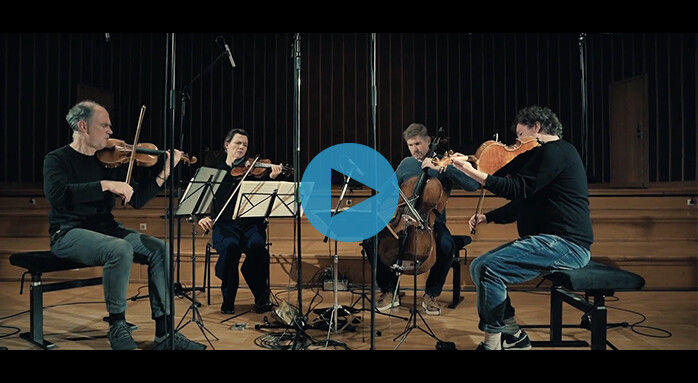 Digital Release Date: 19 MAY 2023
Physical Release: MAY 2023
Released as 1 CD and in digital formats for streaming and high-resolution downloads.