In August, PENTATONE releases two enthralling additions to the catalogue: Haydn: L'isola disabitata with André Morsch, Anett Fritsch, Krystian Adam, Sunhae Im, Bernhard Forck, Akademie für Alte Musik Berlin, and Strauss: Eine Alpensinfonie with Rundfunk-Sinfonieorchester Berlin, conducted by Vladimir Jurowski.
EXOTIC OPERA WITH AN ELABORATE SCORE
André Morsch, Anett Fritsch, Krystian Adam, Sunhae Im, Bernhard Forck, Akademie für Alte Musik Berlin
After their acclaimed recording of Telemann's Miriways, the Akademie für Alte Musik Berlin returns to PENTATONE with Joseph Haydn's opera L'isola disabitata, together with an excellent quartet of vocalists. Officially called an azione teatrale, L'isola is a serious opera about love, loss and misunderstanding with a happy ending, set on an exotic deserted island. Special about this opera is that Haydn chose orchestral accompaniment for the entire work, with colourful and dramatic accompagnato recitatives. In Haydn's printed score, many of the elaborate instrumental sections were deliberately cut, because he feared that they demanded too much from the players, and that some audiences may not have been cultured enough to fully appreciate them.Special about this recording is that these parts have all been reinstated, using a recent edition by Thomas Busse. The seasoned players of the Akademie für Alte Musik Berlin, led by Bernhard Forck, play this lavish score with fervour and swing, while Anett Fritsch (Costanza), Sunhae Im (Silvia), Krystian Adam (Gernando) and André Morsch (Enrico) offer an equally virtuosic vocal delivery.
The Akademie für Alte Musik Berlin is generally seen as one of the best period-instruments ensembles of today, and has a substantial PENTATONE discography, including Telemann's Miriways (2020), CANTATA with Bejun Mehta (2018), as well as Handel's Messiah (2020) and Concerti grossi Op. 6 (released in 2019 and 2020) and Op. 3 (2020). Annet Fritsch and André Morsch featured on Telemann's Miriways, while Sunhae Im and Krystian Adam make their PENTATONE debut.
This album will be released physically as 1 CD set and in digital formats for streaming and high-resolution downloads. (Article number: PTC 5186275)
MUSICAL ODE TO SUBLIME NATURE
Vladimir Jurowski, Rundfunk-Sinfonieorchester Berlin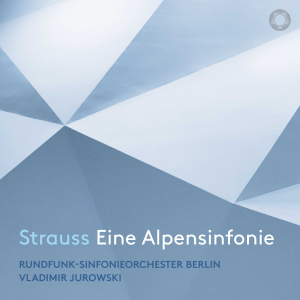 Vladimir Jurowski and the Rundfunk-Sinfonieorchester continue their PENTATONE journey through the heights of German late-Romantic repertoire with a recording of Richard Strauss's Eine Alpensinfonie. The Alpine Symphony was inspired by the composer's experiences during a mountain trail, and is an audience favourite thanks to its picturesque, idyllic charm and powerfully evocative score. To Jurowski, the attraction of this piece lies not so much in the picturesque, but rather in Strauss's Nietzschean embrace of living in the now and the transformative power of being in complete harmony with sublime nature. In that respect, this album shares a kinship not only with Jurowski's previous recording of Strauss's Also Sprach Zarathustra (2017), but equally with his acclaimed interpretation of Mahler's Das Lied von der Erde (2020), in which he also recognizes a composer coming to terms with the mortality of man while celebrating the immortal nature of Life. Seen in this light, Strauss's Alpine Symphony becomes much more than just an exquisitely scored postcard.

The Rundfunk-Sinfonieorchester Berlin has a vast PENTATONE discography. Together with their chief conductor and artistic director Vladimir Jurowski, they have recorded Mahler's Das Lied von der Erde (2020), symphonic works from Mahler and Strauss (2017), violin concertos by Britten and Hindemith together with Arabella Steinbacher (2017), and Schnittke's Third Symphony (2015).
This album will be released physically as 1 SACD set and in digital formats for streaming and high-resolution downloads. (Article number: PTC 5186802)
Photo: Katerina Kepka