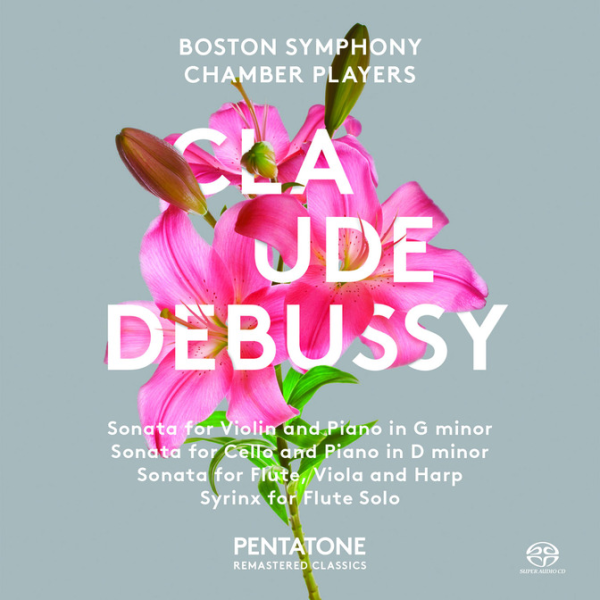 REMASTERED CLASSICS Debussy – Sonata for Violin and Piano; Sonata for Cello and Piano; Sonata for Flute, Viola and Harp; Syrinx for flute solo
REMASTERED CLASSICS Debussy – Sonata for Violin and Piano; Sonata for Cello and Piano; Sonata for Flute, Viola and Harp; Syrinx for flute solo
€ 10,99 – € 20,99
Tracks
CD1
Sonata for Violin and Piano in G minor
Sonata for Cello and Piano in D minor
Sonata for Flute, Viola and Harp
Total Duration
00hr 42min
Album information
How fortunate that, with modern technology, the most subtle of nuances in a performance can be successfully captured in a recording. The music of the great French master Debussy – who revolutionised and pushed the boundaries of tonal harmony, as well as discovered new sound and expressive possibilities for musical instruments – is reproduced in this high resolution quality recording like never before.
The three chamber music works represented here were all written in the last three years of Debussy's life and are a fusion of the styles he used to adopt throughout his composing career. The cavalier and Moorish flavour of the Cello-Piano Sonata, the subtly seductive Violin Piano Sonata and the beautifully transparent Sonata for Flute, Viola and Harp are masterfully performed by members of the legendary Boston Symphony Orchestra, with the great Michael Tilson Thomas at the piano. As an added bonus, we have the mystical Syrinx for solo flute which completes this beautiful album.
This release in PENTATONE's REMASTERED CLASSICS makes an invaluable addition to the series.